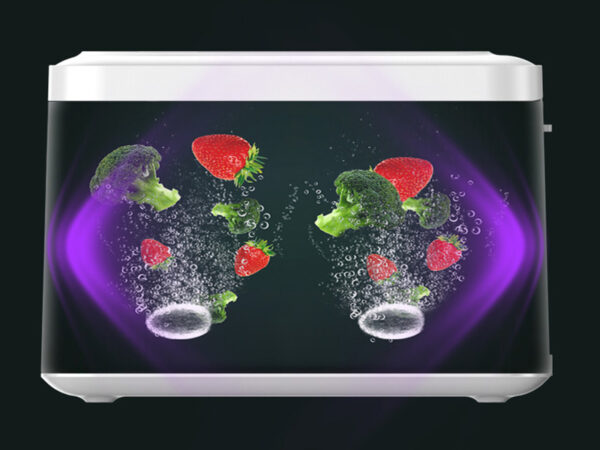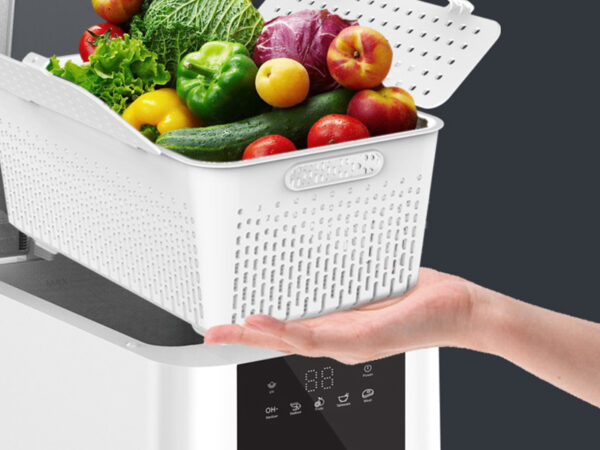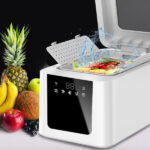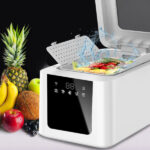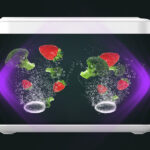 Fruit And Vegetable Washing Machine COH15-C6B,Ultrasonic Fruit And Vegetable Washer Washing Equipments
Description
Trilogy of fruits and vegetables purification Easily release your hands
Fruit and vegetable purifier
COH15-C6B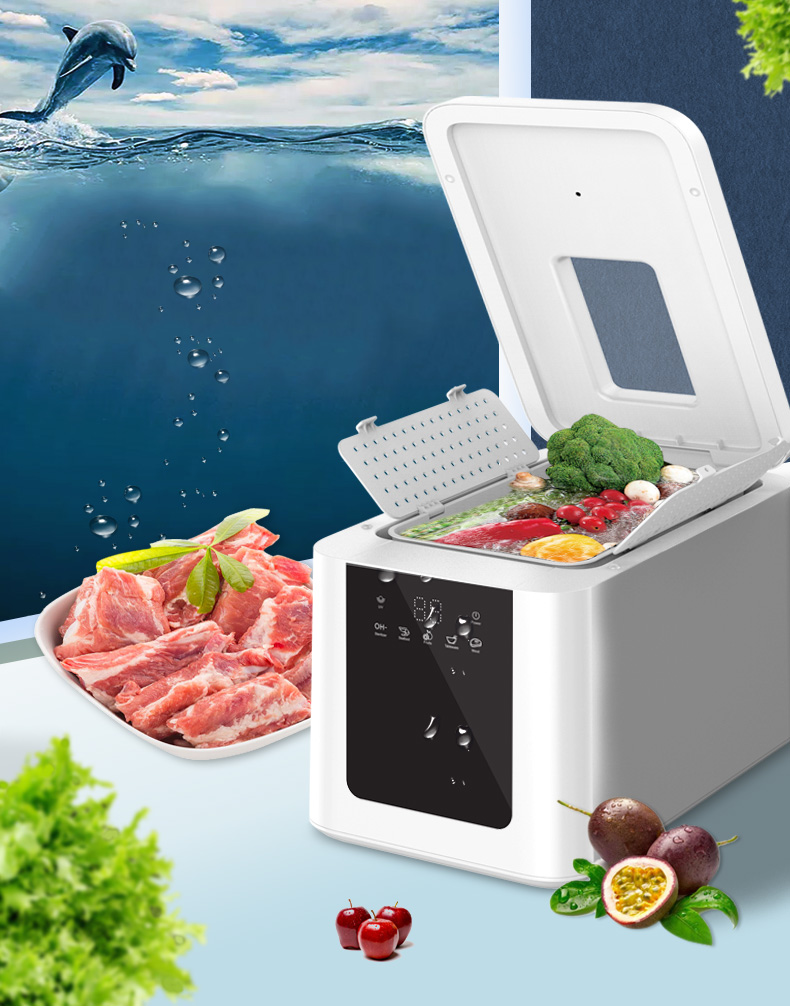 | | | |
| --- | --- | --- |
| | | |
| Water electrolytic purification | Clean with water circulation | UVC sterilization |
Are you sure the fruit
and vegetables have
been cleaned?
Mud could be cleaned, but pesticide residue could not be cleaned.
| | | | |
| --- | --- | --- | --- |
| | | | |
| Harmful bacteria | Hormone clenbuterol | Germs and bacilli | Other bacteria and viruses |
Say goodbye to hand-washing
Trilogy of purification, clean fruit and vegetable without residue,
protect health of your family members.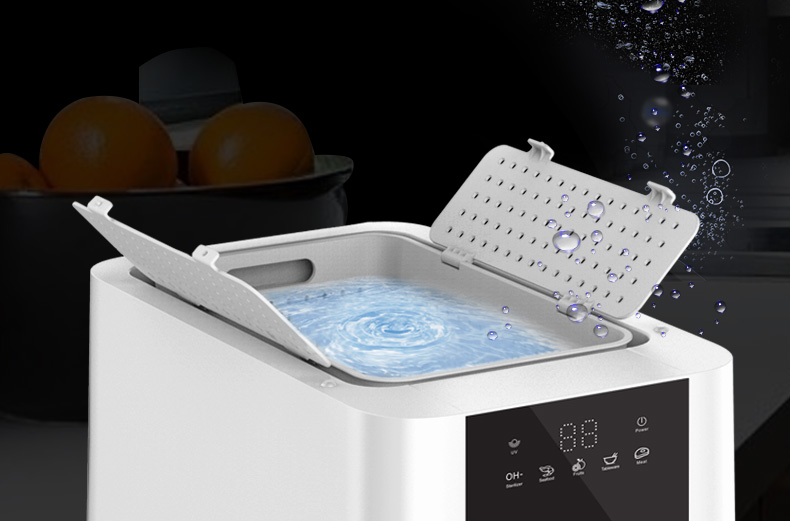 ※ Water electrolysis purification
※ Clean with water circulation
※ UVC sterilization
Trilogy of purification technology
First level: Water electrolysis purification
Water is the raw material and no chemicals have been added.
Using water as raw material without adding any chemicals, decomposing it into hydrogen ion (- H) and hydroxyl radical (- OH) through hydroxyl water ion generator. It purifies the food ingredients. It can decompose bacteria, viruses and pesticide residues into water and inorganic salt which are harmless to human body and environment.
Second level: Clean with water circulation
Clean inorganic substances in food ingredients.
Promote the internal water circulation of the machine, and clean the fruits and vegetables by 360° three-dimensionally with water to decompose the inorganic substances which could purify the food,
avoiding secondary cleaning.
Third level: UV sterilization
Fruit and vegetable purifier COH15-C6B
Start cleaning fruits, vegetables and tableware at the same time, start UV bacteriostat function, let 275 nm short-wave ultraviolet rays directly irradiate into the water, degrade the pesticide residues and sterilize the harmful bacteria on tableware.
Purifier with trilogy of fruits and vegetables purification
6 intelligent purification procedures
The purifier helps you to deal with diversified demand, and reduce the anxiety about daily food safety.
| | | |
| --- | --- | --- |
| | | |
| Start the purifier for 20 minutes when cleaning aquatic products | Start the purifier for 12 minutes when cleaning fruit and vegetables | Start the purifier for 8 minutes when cleaning appliance |
| | | |
| Start the purifier for 15 minutes when cleaning meat | Combine the above four functions of UVC together | Start the purifier for 20 minutes when purifies the water |
9L large capacity
Large capacity space, meet the food
materials in the whole day of the family at once.
Clean fruits and vegetables easily and release your hands
Operate the purifier easily on the large screen
Touch the button, press the power button
first, and then press the corresponding function to
start the purifier.
Panoramic sunroof
Transparent sunroof design, the cleaning process of food ingredients is clear at a glance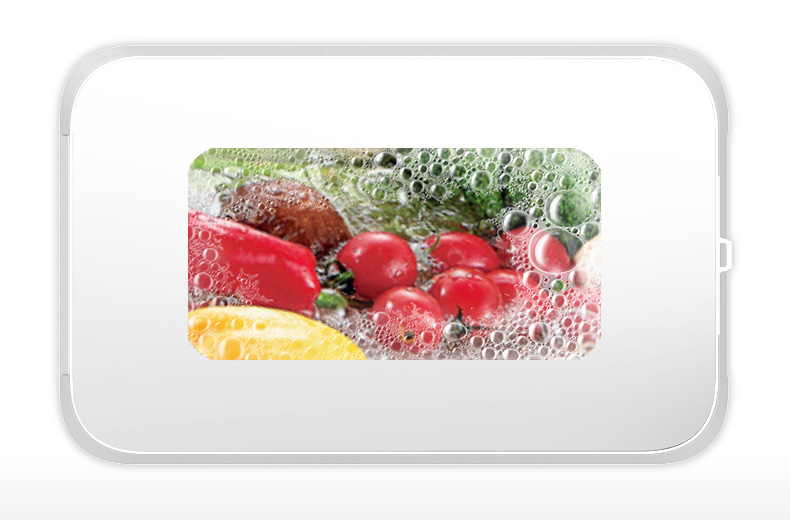 Removable fruit basket with lid
Movable–Easy to take out fruits and vegetables
With a lid–Prevent the fruits and vegetables from floating
Quality life is from the detail experience
| | | | |
| --- | --- | --- | --- |
| | | | |
| Sealed lid | Maximum water line | Large caliber filter leakage | Antiskid base |
Product parameter
Product Name: Fruit and vegetable purifier
Voltage/ Frequency: 220V/50Hz
Standby Power: <2w
Product Capacity: 9L
Item Model Number: COH15-C6B
Rated Power: 85w
Product Net Weight: 5.5kg
Product Size: 447×275×318mm