How Office Sparkling Water Systems Work
Water Purifier Provider
Have you been eager to know how office sparkling water systems function? This information is necessary for businesses that serve carbonated water from sparkling water dispensers. If you have this knowledge, you can confidently explain how the bubbles are formed to your customers.
Knowing how carbonated water is formed is not only fun, but also gives you a level of confidence if you ever have to chat with customers. In this post, you will get firsthand knowledge of how office sparkling water dispensers work. Other relevant information will be included in the post as well.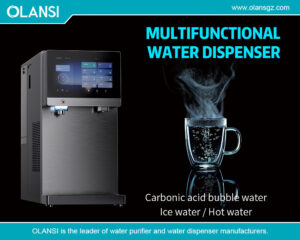 How Carbonated Water is Produced
Sparkling water dispensers can produce carbonated water by pressurizing still and filtered water with carbon dioxide. The different processes or stages required to make sparkling water will be discussed extensively below;
Filtration. This is the first thing that happens inside all office sparkling water systems. In the best sparkling water dispensers, this process is usually undertaken by a duo of carbon filters for proper filtration. The double filtration will not only prevent unwanted particles from being seen inside the water. It will also make the water fresh, pure, and devoid of chemicals, contaminants, heavy metals, pesticides, as well as other impure substances.
Disinfection. Getting the water disinfected is the next important stage of the sparkling water production process. The filtered water will be sent through a special filter to ensure complete irradiation. In many sparkling water dispensers, they use the NanoCeram filters. The disinfection stage destroys any virus or bacteria that may be present in the water. This is what makes the water safe for drinking.
Chilling. The water has to be cooled to the desired temperature. The taste of carbonated water is more refreshing when it has been made to look chill inside a refrigerator. When a sparkling water dispenser chills sparkling water, it makes it look delicious and cool for as long as possible. That will automatically improve the sparkling water's appearance and make it more satisfying.
Sparkling. After all the above stages have been completed successfully, here is the part where the sparkle or bubble is added to the water. The dispenser is equipped with a carbonation compartment where the water bubble is formed. In that chamber, the treated water is forced to combine with carbon dioxide under high pressure, thanks to a number of sensor controls. At this point, office sparkling water systemscan dispenser bubbly, chilled water that is pleasant for drinking.
All sparkling water dispensers, including the ones that are used in offices and at homes employ this basic principle in producing carbonated water. From the above explanation, one can safely arrive at the chilling conclusion that the water has been properly filtered and disinfected.
Sparkling Water and Healthy Minerals
Besides drinking it for fun, most people drink sparkling water because of its health benefits. Sparkling water is considered to have a vast amount of healthy minerals in it. It contains basic minerals required by our bodies. It is also a worthy equivalent of mineral water.
So, if you ever have customers or clients who prefer mineral water, you can offer them sparkling water. Mineral waters can be gotten from mineral springs, with natural gases being the source of its effervescence.
Sparkling water systems are known for retaining essential minerals such as magnesium, zinc, and calcium to provide customers with pure and clean water. All the health benefits they should get if they had sourced those minerals from other things will be made available to them too. In a nut shell, drinking sparkling water is a good way to improve your health and lifestyle.
Other Benefits of Sparkling Water Systems
There are other numerous benefits you stand to get when you purchase office sparkling water systems. Some of those benefits will be highlighted below;
Multiple Designs
If you are installing a sparkling water dispenser in an office, it has to be something that is appealing to the eyes. The last thing you want to do is purchase a water dispensing unit that is completely out of sync with your office's design.
There are several designs you can choose from when it comes to office sparkling water systems. Your responsibility is to look for a water dispenser that matches your office design. Or do you intend to use the unit in a restaurant or any other public space, still search for one that will catch the eyes of customers.
Space-Saving Dispensers
If you are looking for office sparkling water systems that will not take up too much space, then you can find such on various online stores. The best water dispensing units can fit into small, compact spaces. Their designs do not allow them to take up more than the necessary space. The fact that they look compact also helps to add more beauty to any indoor space.
Consider Cost and Quality When Shopping for Dispensers
Now that we are done highlighting some of the benefits of dispensers, let's discuss some things you need to consider when shopping for them.
When searching for reputable office sparkling water systems, it is best you look for a cost-effective option. Not all the dispensers go for outrageous prices. You can always get a decent water dispensing unit at an affordable price.
While looking for a cheap sparkling water dispenser, also ensure the one you are choosing boasts the best quality. That is because some cheap water dispensers have been a disappointment to buyers eventually. So, try to get the best unit for the money you are spending.
Final Words
I am sure you no longer have any doubts as to how office sparkling water systems are designed to function. This article has explained how such dispensers work. Some of the most significant benefits of sparkling water dispensers were also discussed here. Are you looking for where you can get the best sparkling water dispensing units? We have got you covered with our esteemed range of sparkling water dispensers. We are redefining the world of carbonated water.