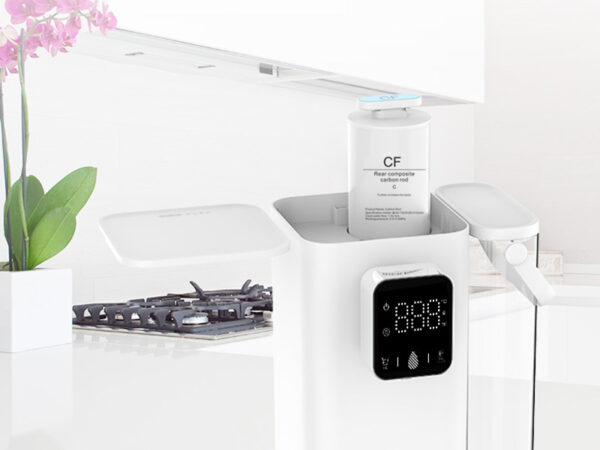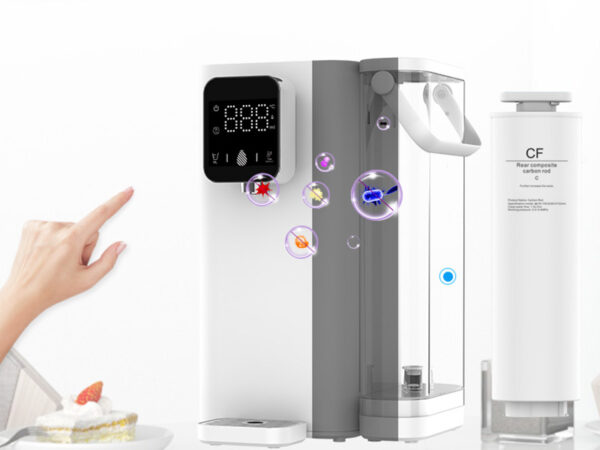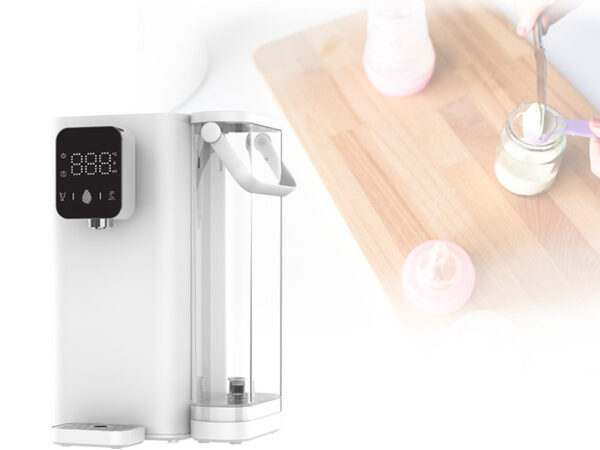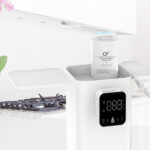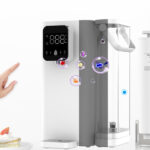 Fresh Spring Water Purifier W2 Pro,Best Spring Water Filtration System For Home And Office Use
Description
SUPER INTELLIGENCE
Fresh Spring Water Purifier and Dispenser Be healthier
Fresh Spring Water W2 Pro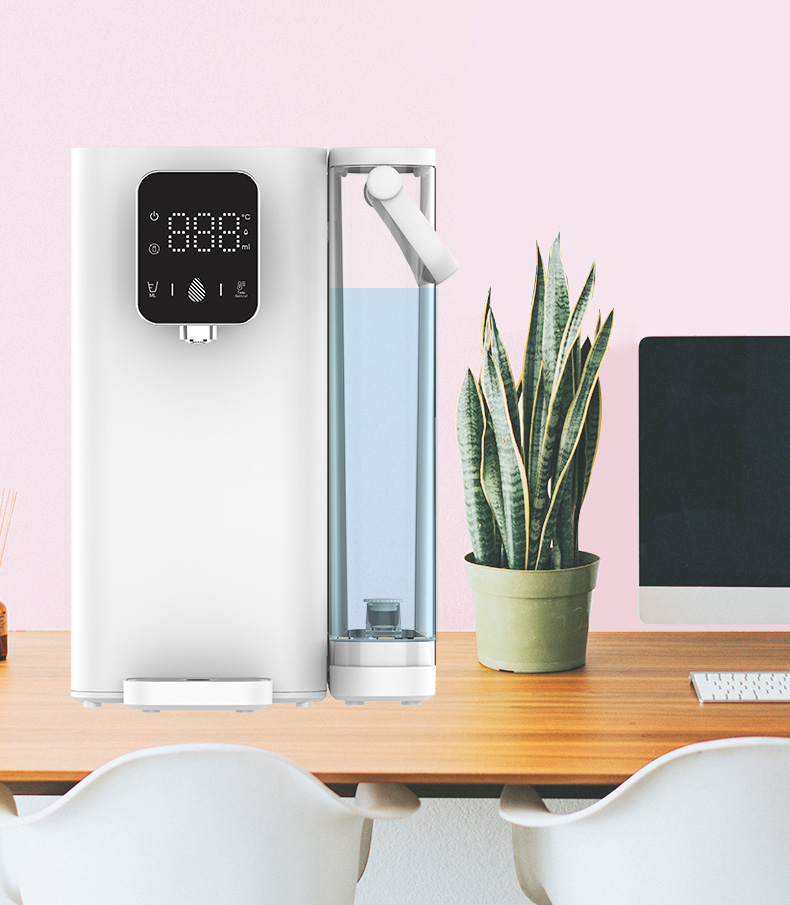 Technology contributes to wonders
Intelligence changes life
| | | |
| --- | --- | --- |
| | | |
| A machine with multiple functions | High-precision osmosis purification technology | Rapid heating with surround heating wire 3s rapid heating technology |
| | | |
| Mineral substance reserved | Composite filter element | Fresh water Freshly drinking as made |
| | | |
| Alkalescent water | Water yield of 5 grades Water delivery of fixed amount | Water temperature of 5 grades |
A machine with multiple functions
New way of healthy drinking
Integration of purification and 3s rapid heating It not only has the purification function of a water purifier, but also has the heating function of a water dispenser and a kettle. The purification system is upgraded, so that the water produced at once is ready for drinking. Besides, the whole pipeline is free from air contact, thus ensuring the freshness of water. The 3s heating system has been upgraded, so that the multi-grade temperature can be selected at will without waiting. As a result, you can really drink fresh natural alkalescent mineral water at any time.

Advantages: Instant heating at turning on; Temperature control of several grades; Fresh eater; Safer water; Removable and washable water tank; Installation-free, small and movable
Comparison: High replacement cost of filter element; No heating; No temperature regulation; Large water consumption; Installation required; Stale water; Numerously boiled water; Inside easy to be stained; Hard to be moved; Long time for heating; Long time for cooling.
Disposable quick connection composite filter element
Disposable filter element refers to filter element that is simple in design and can be replaced by user rapidly. It is suitable for any water source and can be installed freely.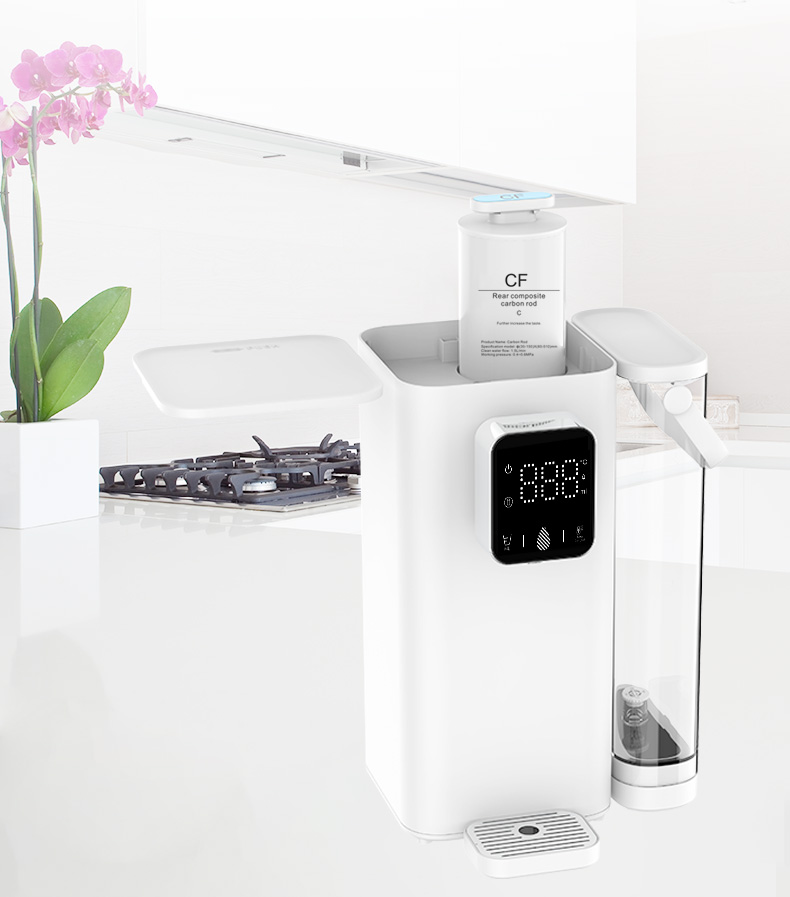 Old filter element needs rotation and lifting. New filter element needs putting and rotation. The filter element can be replaced in 5s.
1 filter element. 4 times of filtering
It is equipped with composite ultrafiltration technology, combined with interception and adsorption double-effect water treatment technology, it can achieve a filtration accuracy as high as 0.01 micron, thus it can effectively filter out 99.99%* of harmful pollutants such as bacteria, rust, residual chlorine, organic matter, pesticide residues and spore cysts in water, while retaining trace elements and minerals beneficial to human body such as calcium, magnesium, iron, zinc and selenium in water. Water quality certified by authority is safe for drinking.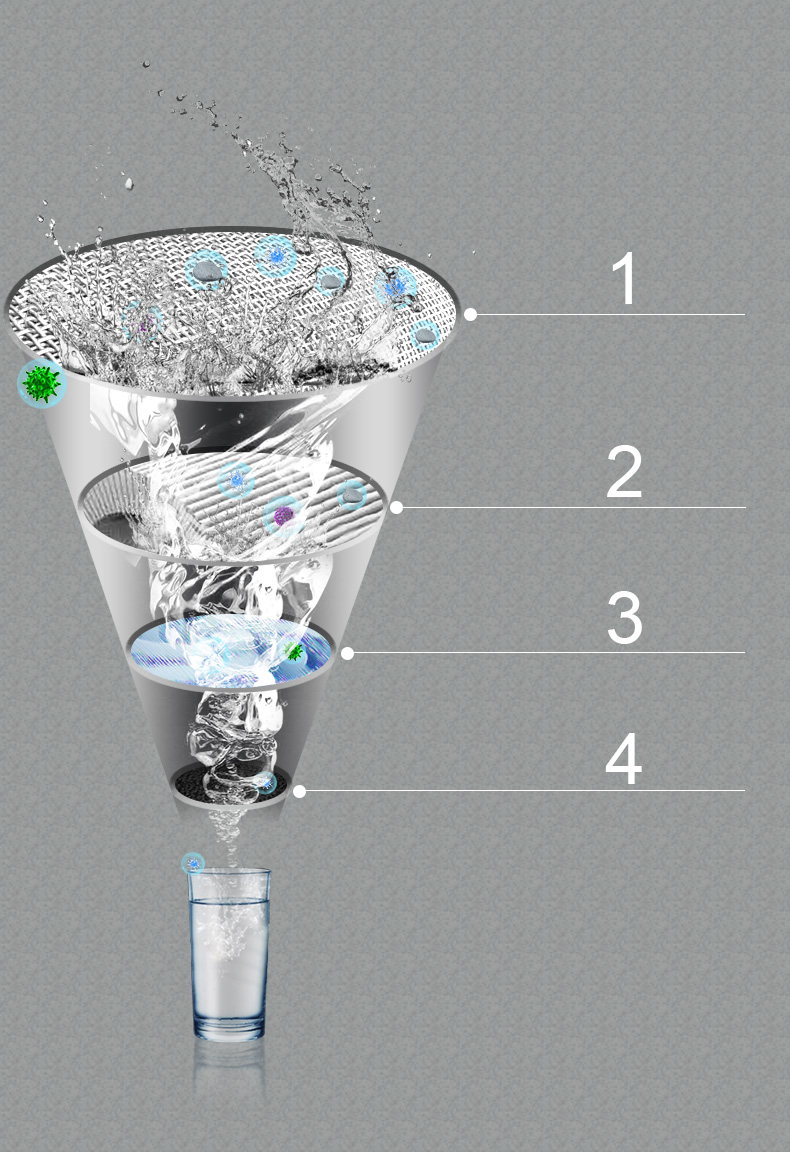 Layer 1: 80-mesh fine 304 stainless steel screen
Effectively remove hair, sediment, large particles of impurities. Effectively prevent core components from blockage or damage.
Layer 2: Pressing folding PP filter element
110-folding PP cotton with an unfolded area of up to 0.2 square meters, which is more than 5 times that of ordinary PP cotton, makes it have a longer service life; It can filter out harmful substances such as rust, colloid, impurities and particles.
Layer 3: The folded ultrafiltration membrane
Utilizes advanced flat-panel folded ultrafiltration membrane, using folded around technology, an area of 0.2 square meters, 0.01 micron filtration precision; 99.99% of the bacteria, viruses, effectively remove the water harmful pollutants such as colloid, spore cyst.
Layer 4: High density sintered activated carbon filter
Optimizing the high iodine value high adsorption ability of coconut shell activated carbon, through 300 degrees high temperature sintering extrusion forming of high carbon rods, in the water can be a good contact; Through countless microporous carbon surface effective adsorption residual chlorine odor, different color, organic matter, chloroform and other hazardous substances, and to improve the taste and smell of water.
Purification with 0.01um ultrafiltration composite filter element.
Removing multiple harmful substances.
High purification capacity, with beneficial mineral substance reserved.
Microfiber composite tertiary filtering
Remove 99.99%* of bacteria, safe for drinking
Reserve mineral substance that is beneficial for body
Tea or coffee brewed by it is more savoury and mellow
The minerals in water are mainly some mineral ions, such as calcium, magnesium, sodium, potassium and iron. Lack of these minerals will likely lead to problems such as imperfect development of teeth and bones, and affect intelligence and growth of children.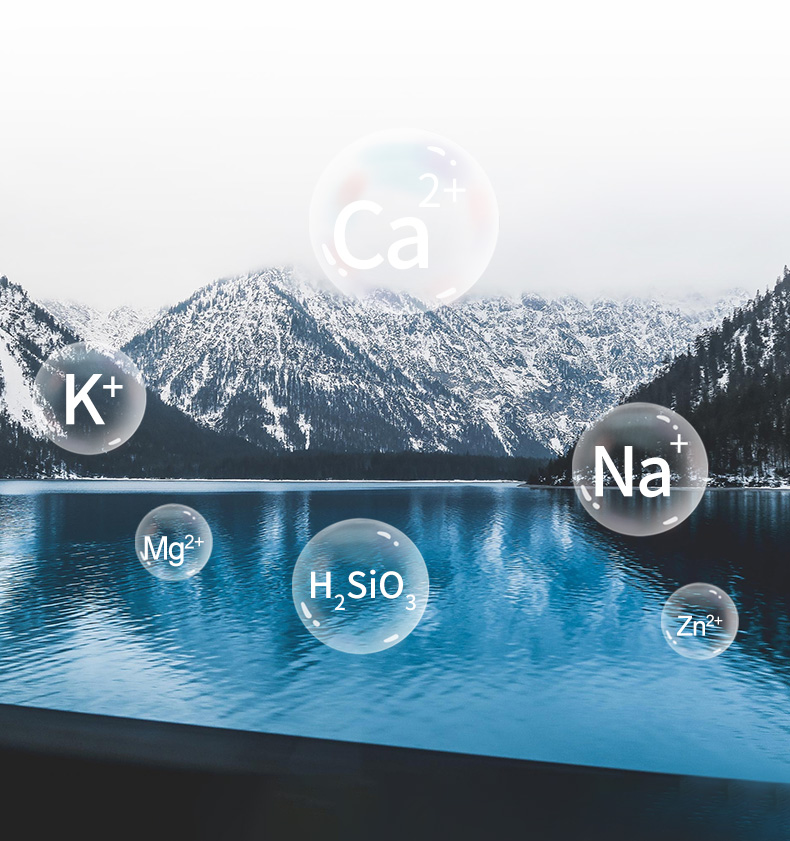 * The mineral content is determined by raw water, which varies from place to place due to water quality.
Mellow, smooth, and sweet
Mellow water with mineral substances
Alkalescent fresh water rich in minerals, comparable to high-end natural mineral water.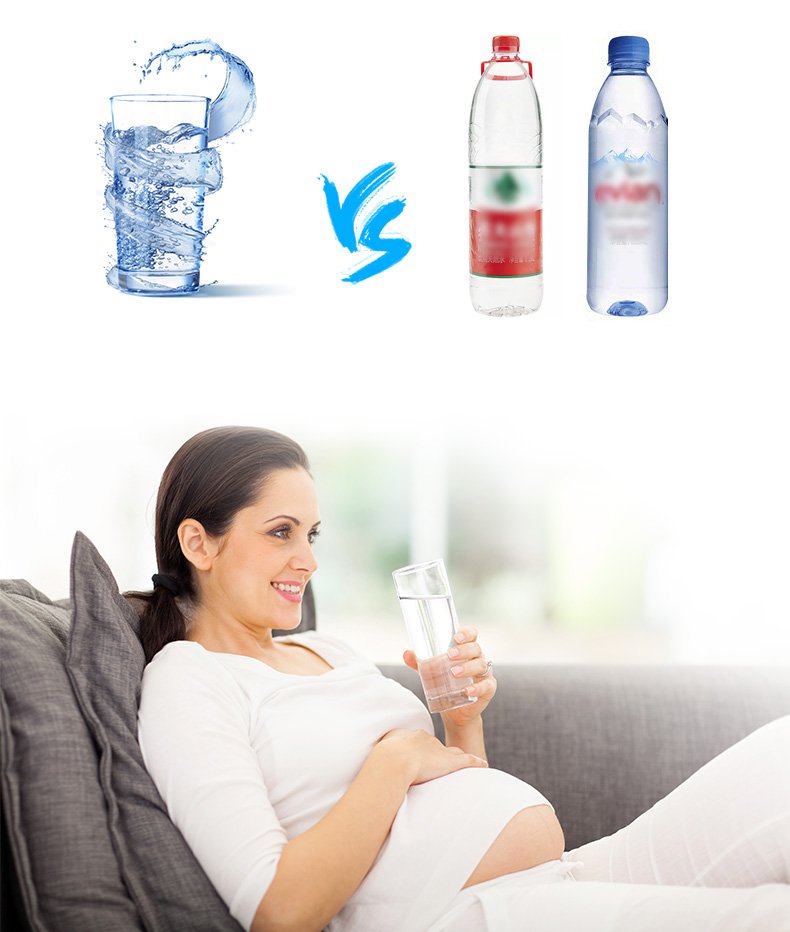 Water quality / Mouthfeel
Fresh water, freshly drinking as made
Direct drinking like fresh spring, safer without storage tank
Through innovative design, this water purifier and dispenser is not designed with internal water tank. And there is no air contact in the whole waterway, which eliminates the pollution of bacteria in the air to the internal purified water tank and waterway, and ensures the cleaner and safer water.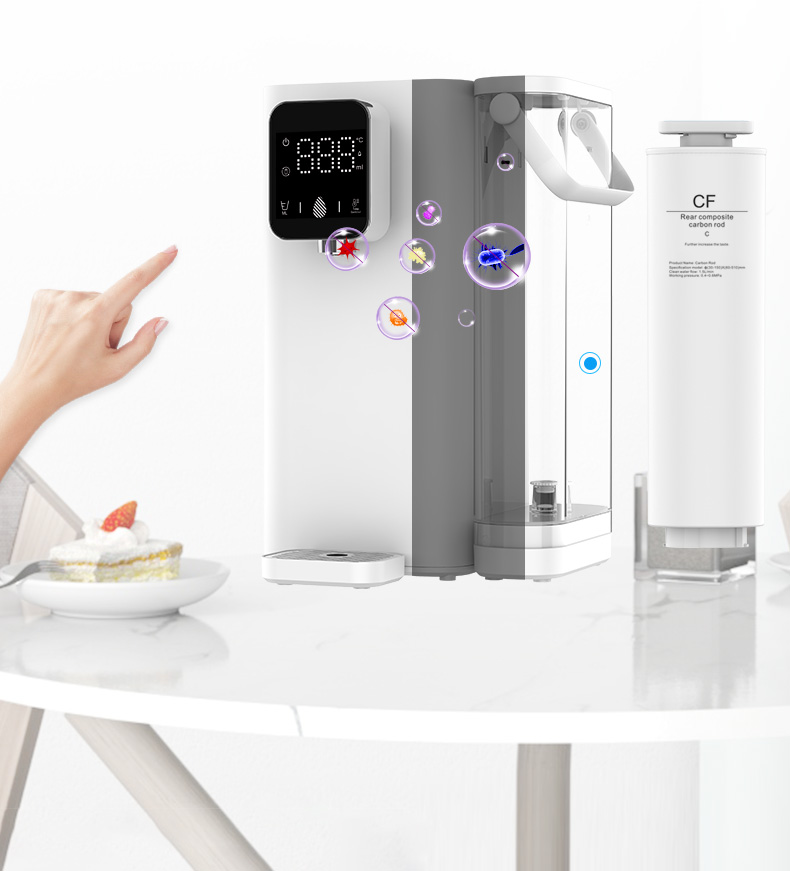 Design without purified water tank
Water yielded instantly at purification, requiring no water storage and without waste water. Avoid bacteria breeding, cleaner and more secured.
Design with purified water tank
Slow water yield, with waste water, long term storage in purified water tank lead to bacteria breeding.
3s rapid heating
Without long term waiting, and convenient for drinking

Filtration before heating, providing fresh and purified water

It is supported by 3s rapid heating technology with surround heating wire. It can provide water instantly, supports multi-grade water temperature, and adapts to more complicated water quality.
Fresh and instant cooking
No numerously boiled water
3s rapid heating
No need to wait
Helix wire
Rapid heating structure
5-grade controllable water temperature
The temperature of each grade can be easily controlled meet the needs of different drinks.
| | | | | |
| --- | --- | --- | --- | --- |
| | | | | |
| Normal temperature | Milk | Hydomel | Green tea/Coffee | Boiling water |
| | | | | |
| --- | --- | --- | --- | --- |
| | | | | |
| Normal temperature water | Milk | Hydomel | Green tea / Coffee | Boiling water |
Room temperature water: 25℃, no need to unlock, just drink freely.
Milk: 42℃, which will neither thicken the whey protein nor destroy vitamins in the baby milk.
Hydomel: 60℃. Honey should not be mixed with high-temperature water or heated at high temperature, because high temperature will destroy some nutrients in it.
Green tea/coffee: at 85℃. Coffee and green tea should be brewed directly with boiling water. It's better to drink them warm after brewing. Boiling water: 99℃, water at boiling point
Installation free, without limitation of water source
Put it wherever you want Suitable for bedroom, baby's room, kitchen, living room, office and even outdoor camping.
| | | |
| --- | --- | --- |
| | | |
| Bedroom | Baby's room | Kitchen |
| | | |
| Living room | Dining room | Outdoor |
Convenient replacement of filter element and free maintenance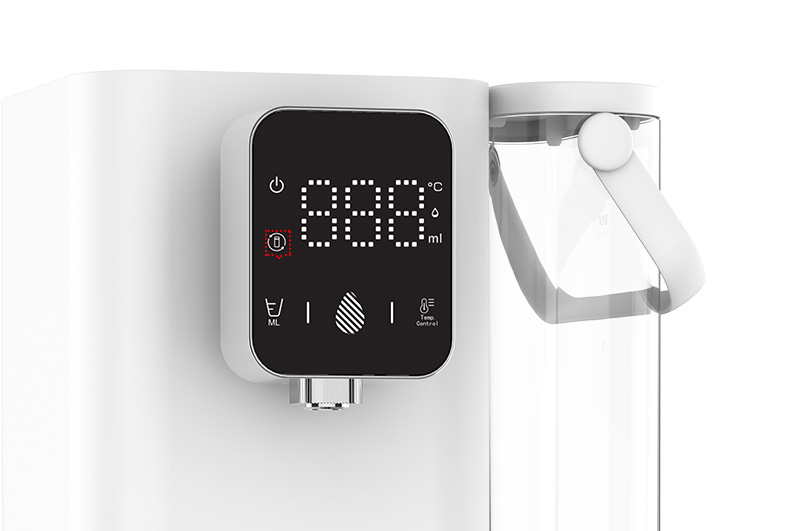 Prompt on service life of filter element:
The yellow indicator on the display panel indicates that the service life of the corresponding filter element has reached 80%, and the red indicator indicates that the service life of the corresponding filter element has been exhausted and needs to be replaced.
Replacement operation of filter element:
Disposable filter element, its replacement as simple as that of battery
Easy replacement of filter element without tools or professionals
·Disassembly of the old filter element: hold the end of the old filter element and screw it out counterclockwise.
·Replacement of new filter element: hold the end of the new filter element and screw it clockwise.
Three simple steps, easy replacement of filter element
1.Open the top cover plate
2.Rotate to unlock the filter element
3.Remove the old filter element
Put in the new filter element
Visible purification, better water quality
The 2.5L water tank is small, transparent, removable, washable and more convenient. The water tank can be kept clean and prevented from secondary pollution. Once filling of water can meet the daily water demand of two people at home.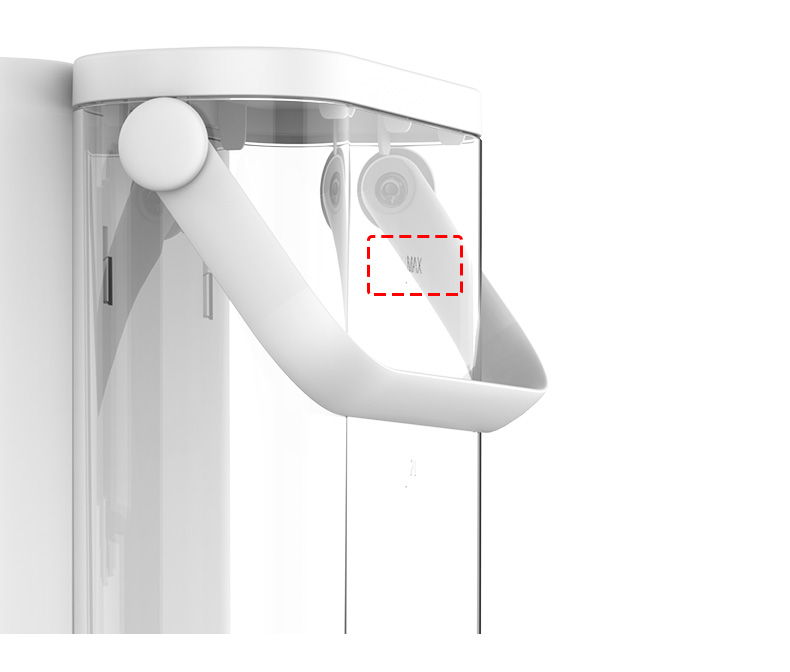 2.5L / Large-volume / Meeting the water / Demand of one day
BPA free water pipeline
Each drop of water from inlet to outlet is pure and is the best choice of mom caring for safety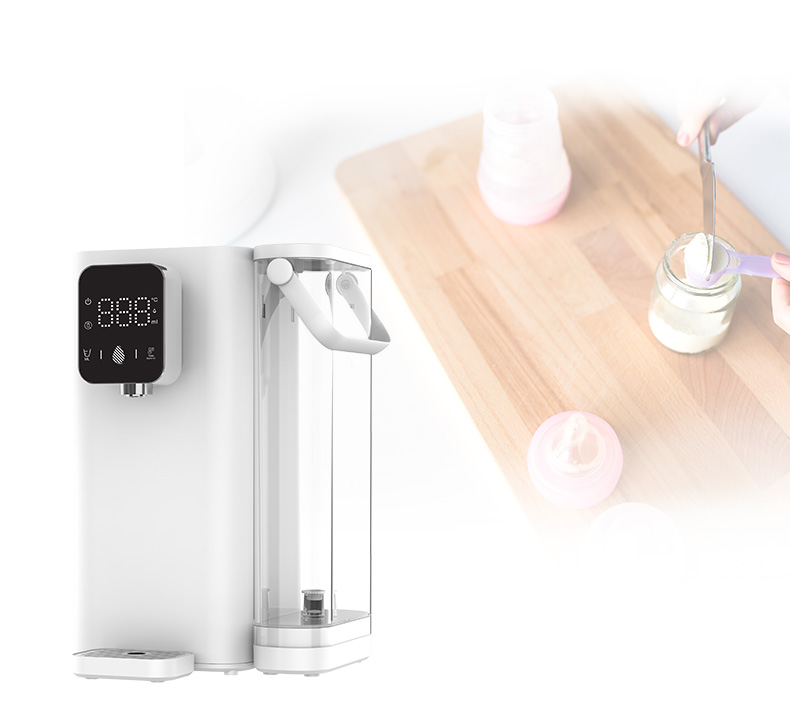 Safe water for children Let mom at ease
Remember temperature and amount of water
Humanized design of one touch for brewing milk at night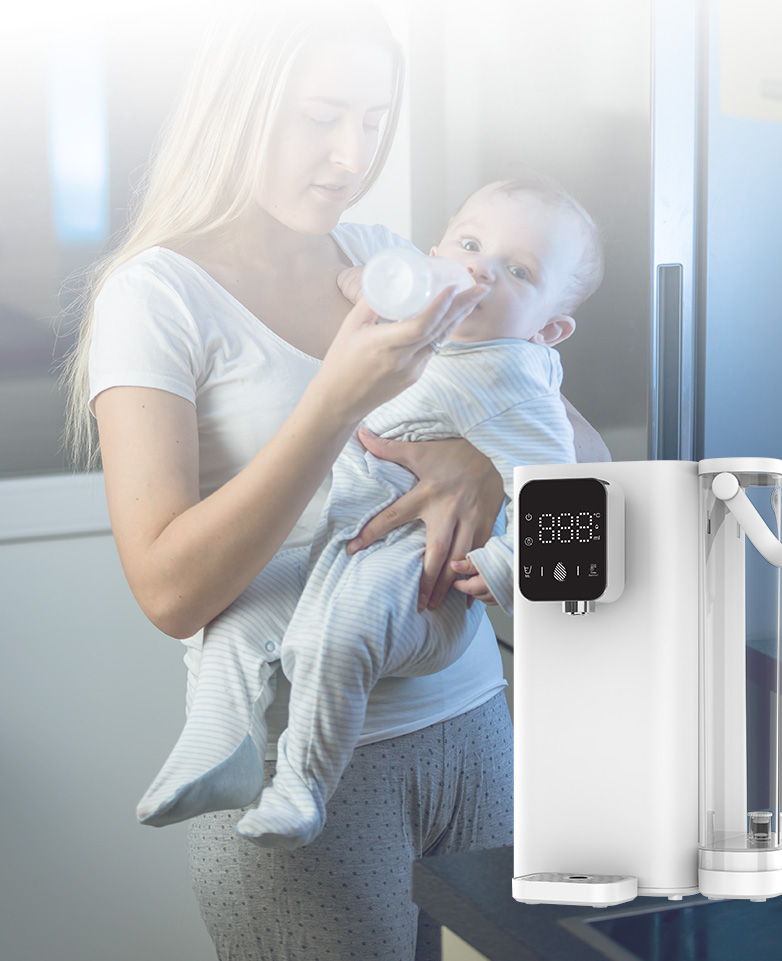 Total purified water amount of 3,000 L
Pure water can be enjoyed by the whole family, bringing more beautiful and romantic experiences and s urprises.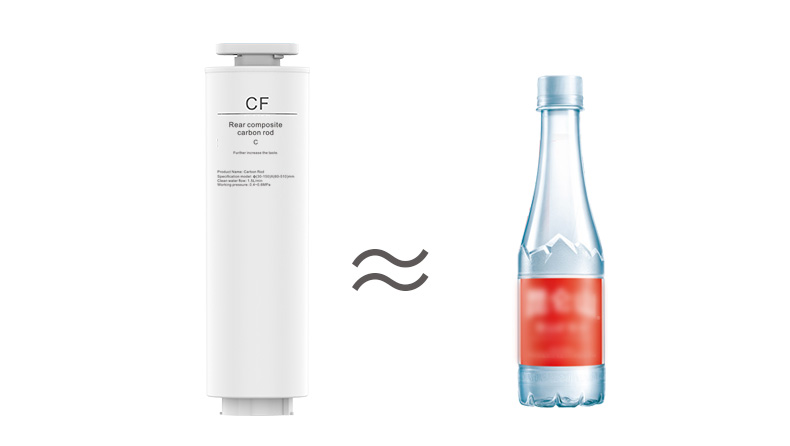 Total purified water amount of 3,000 L. About 8,571 bottles drinking water with 350mL.
Product parameters
Part No.: W2 Pro
Key functions: Rapid heating and purification
Usage environment: Ambient temperature: 4-40℃
Rated voltage: 220VAC/50Hz
Heating power: 2100W
Rated total power: 2200W (+5% -10%)
Water heating capacity: ≥90℃ 18L/h
Water yield speed: > 400ml/min